CCX – Continuous Customer Experience
The CX feedback solution, for Fitness & Leisure Operators and their Customers
Executive Summary
SWL's CCX is a next-generation Continuous Customer Experience solution, designed for Fitness & Leisure environments. CCX enables instant reach across a diverse customer population. You can take action and improve performance with real-time customer feedback insights. SWL are specialists in delivering efficiency and service improvement in all types of B2C organisations; SWL's experience includes Fitness and Leisure, Theme Parks, Restaurants and Retail. Our retail track record demonstrates our dedication to providing a one-to-one, personalised service; customer centricity is a shared passion.
CCX  – who is it for?
For anyone seeking solutions to Fitness & Leisure CX challenges including:
Understanding how customers (including members, non-members and non-participants) want to engage with centres and services
Qualify, directly from customers, their specific needs, wants or desires to support beneficial change
Need for a flexible CX solution which is tailorable to serve a variety of facilities
Quantify customer sentiment on a continuous basis, 24/7, with no costly resource demands
Requirement to measure the risk to service and performance ahead of committing change
Ensure leadership teams consider customer in operational planning and decision making.
What do our customers say?
"SWL… enables us to gather information for our customer journey. Engaging with customers is critical in our business."
Rivers Fitness group in Wychavon, Worcestershire is a not-for-profit leisure group. Head of Support Services and Executive Team member Sharon Keen gave an evaluation of SWL's CCX technology that the business has implemented in order to harness the power of customer to enhance their experiences.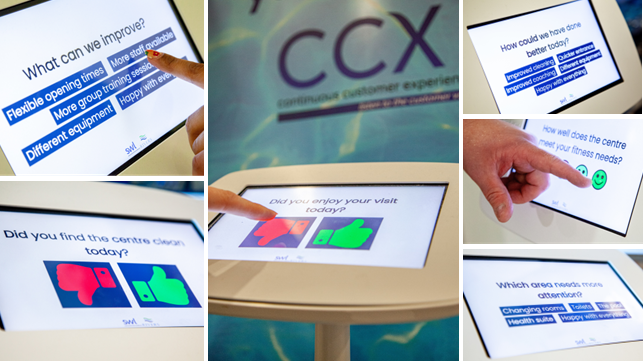 What are the benefits
CCX – the Continuous Customer Experience solution delivers instant reach, for real-time insight into customers' views
Instant interaction removes barriers to customer feedback capture, facilitating high levels of engagement across all user groups
Accelerates understanding of what to stop, start, continue or enhance to improve performance and service
Executive can make informed decisions on operations and strategy based on data fact
CCX enables you to trial new initiatives and confirm your hypotheses with focused, customer campaigns
A powerful CX tool that compliments recognised metrics such as CSAT, CES and NPS.