In conversation with Rivers Fitness, Wychavon, Worcestershire
It's never been more important for Gyms, and Fitness & Leisure facilities to be close to their customers and understand their paradigm.
Against the economic backdrop of Covid, the Fuel and Cost-of-Living Crises, customers are continually reviewing their outgoings per month, from their Sky subscription to their Gym Membership. Value is the watchword, and for those Fitness facilities that don't deliver, switching brand is so easy to do and commonplace with the many alternatives available. Customer loyalty is a sought-after but ephemeral commodity.
Also, it's important not to ignore the 'Power of Customer'. When looking at an average individual's social network, a minimum of 70 people is connected to them, from 'loved ones, good friends, and friends' – this can be extending even further, to the significant number of 150 people when including 'meaningful contacts.' (Source: Robin Dunbar, British anthropologist).
Therefore, according to the 'Leisure Pleasure Principle', getting a customer's experience right means that for each individual – if you get their 'pleasure' right – advocacy and recommendations could be multiplied to 150 people in their social network, many times even more. Customer Experience quickly becomes Word of Mouth. Unfortunately, of course, this can work both ways. The question here then is how to deliver on this effectively. This report explores the success story of Rivers Fitness who have implemented a unique and effective approach to Customer Experience management. They have grasped the 'Leisure Pleasure Principle' by the root.
Contextualising CX (Customer Experience) in today's Fitness and Leisure Industry:
As of 2021, 10.3 million people held a gym membership, which is one in six of the total UK population (Source: idsmedia.co.uk)
According to Statista (2022), the UK fitness/gym market is consistently worth £2billion a year:
'The number of gyms and fitness centres in the United Kingdom more than doubled between 2011 and 2020, highlighting the booming fitness market within the country. However, the coronavirus (COVID-19) pandemic in 2020 created significant challenges for this growing industry as many health and fitness establishments were forced to close their doors to the public. As a result, the number of gyms in the United Kingdom fell from 3,654 in 2020 to 3,060 in 2021. Despite this, the number of fitness establishments in the UK is expected to exceed pre-pandemic levels in 2022.'
A UK Government report (2022) at the tail end of last year tackled some extremely thorny issues facing leisure centres. Council funding is essential, considerable and strained:
'Councils in England are currently the biggest funder of sport and leisure services and facilities. When combined with parks and green spaces, councils currently spend over £1.1 billion a year and are responsible for 2727 leisure centres.'
Over and above that huge expenditure, recent escalating price rises for consumables, equipment and fuel have squeezed budgets even further.
In March 2023, the Government announced £63m in support for swimming pools most in need, for both short-term help with energy bills and long-term decarbonisation.ukactive report this came as a result of a significant data collection effort surrounding price rises, tracking forecasted closures, and the threat to the health and wellbeing of communities should facilities be lost. Meanwhile, ukactive re-state the importance of 'regular interaction and relationship building with potential and existing fitness and leisure consumers', whose experiences can then be used by operators to 'make strategic adjustments to products, services, and facilities to better suit these consumer needs.​'
So, on this budgetary knife-edge, in a substantial but saturated market, how can leisure and fitness businesses survive, let alone compete? But it's not solely just about 'survival of the fittest', to coin a phrase. The only answer to that conundrum is CX. Without a continuous handle on the real Customer Experience, the business is literally running backwards and blindfold on a runaway treadmill.
The 'Leisure Pleasure Principle' – the implementation across Worcestershire of a new CX Solution at Rivers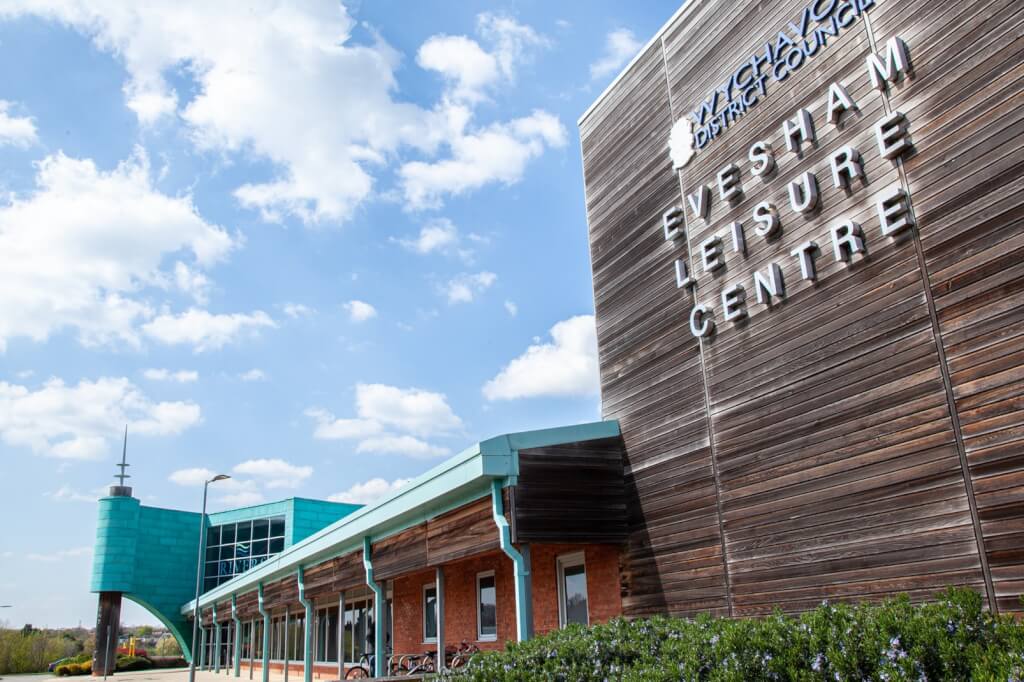 In today's highly competitive leisure and fitness industry, businesses must prioritise customer satisfaction and be agile to adapt to changing demands. Understanding the customer now means really getting under the skin, down to DNA level, to the root causes of their dissatisfaction and positive experiences. This plays a crucial role in understanding individuals' changing circumstances, preferences, experience, and satisfaction levels, in every corner of the offer.
In our interview with Rivers Fitness below, we explore how leisure centres, fitness and gym-related businesses can achieve this customer DNA deep-dive, using innovative technologies to capture members and visitors feedback (primary research) and then (post-visit) analyse and contextualise this to continually improve the facility and the brand proposition for everyone.
Rivers Fitness group in Wychavon, Worcestershire is a not-for-profit leisure group, with centres in Evesham, Pershore and Droitwich. In a recent interview, Head of Support Services and Executive Team member Sharon Keen gave an evaluation of SWL's CCX technology that the business has implemented in order to harness the power of customer to enhance their experiences. Absolute focus on customers is of paramount importance to the Rivers team: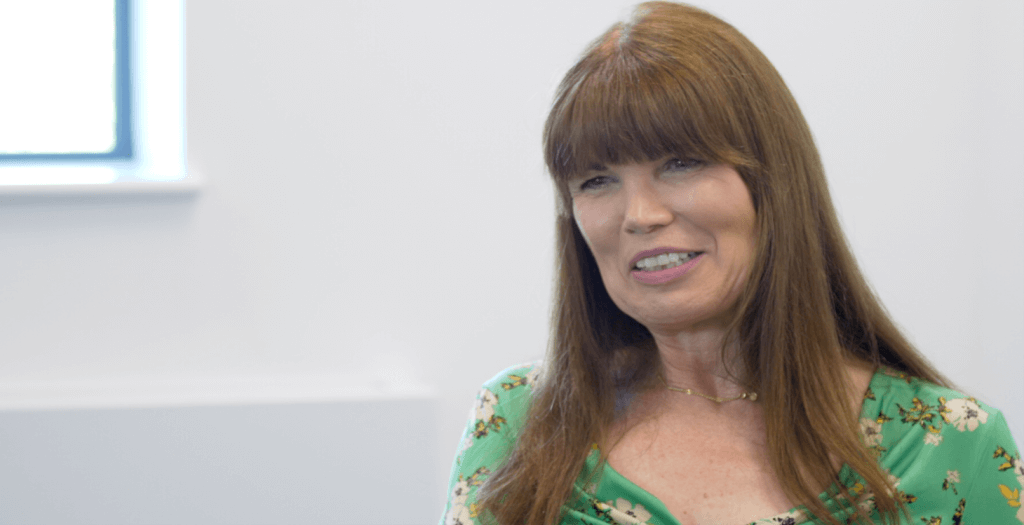 'Our vision is to inspire healthy and active lifestyles. SWL plays a part in that because it enables us to gather information for our customer journey. Engaging with customers is critical in our business. We want to have safe, clean facilities with activities there for them to enjoy, so we need to get that feedback so that we can keep improving things and make them keep wanting to come back. We are as an organisation customer-centric, so we want to reach out to our customers regularly.'
'SWL… enables us to gather information for our customer journey. Engaging with customers is critical in our business.'
Rivers Fitness were early adopters of this new and groundbreaking CX solution, designed for the Fitness and Leisure Industry in early 2023. Ostensibly, the solution comprises of area-specific interactive customer feedback console units (Pods), a CX -oriented application, plus expert CX support services. Each of these separate 'feedback pods' asks increasingly specific questions to establish useful and actionable CX data. The questions are clear, the layout attractive and user-friendly. Customer interactions with each pod therefore literally do 'drill' down, providing specific, focused feedback data. Its key ethos and objectives are:
Enhanced Customer Experience – Regularly being in touch with customer concerns/ opportunities, fosters a positive and personalised experience, leading to increased customer loyalty, retention and advocacy to their social network.
Tailored Offerings: Offering alternative fitness classes, services, products or additional amenities that align with customer expectations. Such customisation not only attracts new customers but also ensures existing ones remain engaged and motivated.
Competitive Edge: CX knowledge empowers companies to make strategic improvements, implement innovative features, and develop unique selling propositions that resonate with their target audience.
Proactive Issue Resolution: Prompt resolution of recurring issues or negative trends demonstrates a commitment to customer care, creating a positive brand image and fostering trust among customers.
Future Growth and Expansion: Leveraging customer insights ensures that companies invest in areas that are most likely to attract and retain customers, thereby driving sustainable growth.
Pushing past the pain barrier
But how has CCX delivered in practice, and how does it differ from traditional 'smileys' and more generic CX kiosks and consoles? Sharon Keen explains:
'CCX allows us to have… different questions throughout the building so it isn't just based on one unit giving us one lot of information. There's various data coming in, questions we might have at different times to different people, to different groups… If we're situated on the swimming pool, around swimming lessons, about the parents and how they might feel about the cleanliness of the building. It can help us deliver on classes; are instructors performing as they should? Is the class how it should be? Are they enjoying it? And make that customer journey special.'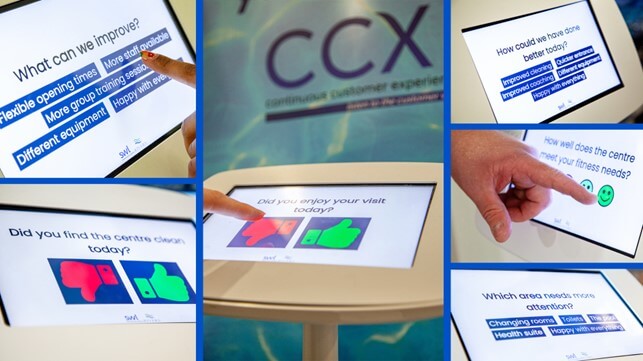 'CCX allows us to have different questions at different times, to different people, to different groups.'
Summary
CCX offers a sophisticated, multi-layered solution that captures customer feedback data, on a continuous basis, to improve all facets of a Gym/Leisure centre's brand proposition and the operation.
Multiple CCX units in key areas of the facility – reception, café, shop, gym, studios or pool – allow customers to engage with several key questions on chosen categories, tailored to the specific area and member in this part of the business.
This isn't based on the restrictive smile or frown in answer to a single generic question, but an opportunity for the Business to explore any Question and Response on specific aspects of the facility's offer. On facilities, equipment, cleanliness, classes, service, refreshments: in fact, any aspect of the business at all, and in whatever degree of detail is required. The data is gathered continuously, so the facility management team and board can access, analyse and act on this data immediately. Improvements and changes can therefore be made based 100% on customer experience – the Primary research from your customers. It allows 'informed decisions', as Keen puts it. Rivers' CX improvements and success to date is very much based on this customer-focused 'Leisure Pleasure Principle'; and SWL's CCX is unlocking it.
'Customer experience is vital for our business. We love our customers. We want to delight them. We want them to have a fabulous time while they're working out in our facilities. And anything we can do to improve that journey by implementing CCX systems, our partnership with SWL has really allowed us to do that. And we are now reaping the benefits of being able to make change quickly. We're keeping our customers happy, we're keeping our staff consistent and moving forward. We're keeping our managers happy and it's a game changer for us. It's worked.'
'It's a game changer for us. It's worked.'