In two of Shop Talk Live's excellent recent webinars hosted by Dan Munford on Global Convenience Store Focus's website, the focus was on innovation in Retail, specifically in Irish Convenience stores and SPAR International's flagship stores in several international markets. This article will highlight the work of SPAR International across such stores in the continents of Europe, Asia and Africa. The story is one of not just spectacular success in their flagship stores, but of the brand's commitment to learning from the experiences and successes in opening those stores in very different markets. There's an organic synergy between local communities, customers and their specific needs, and an interconnectedness between SPAR International Head Office and Partners worldwide. And across this living 'Retail Organism' we see that Learning has driven Innovation, and the results are inspirational.
Guest speakers include BWG Foods Chief Operating Officer David Bagnall, and from SPAR International, CEO Tobias Wasmuht and Head of Brand Gary Harris. Other guests giving fascinating insights into similarly innovative offers were Applegreen's COO, Joe Barrett, Fresh the Good Food Market's Austin McGinley and President of Aramark Northern Europe Frank Gleeson.
Ireland's world-leading innovation
SPAR International CEO Tobias Wasmuht begins his global overview of selected stores with a focus on Ireland, and for good reason. Their EUROSPAR store, opened in Barrow Street Dublin in 2007, was hugely influential on other flagship stores across the entire business. But first it's important to examine the reasons why Ireland has been a torch bearer for innovative Retail. Retail in that country is justly seen as a close rival to fellow innovators Japan. There are some inspirational examples of roadside convenience meeting and spectacularly exceeding customer expectations. Munford offers glowing praise:
Ireland is one of the sexiest places for retail innovation globally… and justifiably famous for Food Service.

Dan Munford, Shop Talk Live
Award-winning Fresh – The Good Food Market's Brand And Development Consultant, Austin McGinley, gives a fascinating overview of his company's position as one of the key innovators in Ireland's convenience sector. Founded in 2006 by Noel Smith, the chain will soon have eight stores in Dublin, and are already nudging more established fast food outlets. One of their essential business drivers is to 'be a leader in our sector, to be different and to be better every day.'
Customers are offered a dynamic and varied choice in lifestyle-inspired offers, from the first second they walk into the store. Freshness abounds: in baked goods, 'fabulous' salad bars and the 'Fresh Kitchen' offering three very different breakfast, lunch and dinner menus. Joe Barrett of Applegreen concurs with this customer-wowing ethos. Businesses must 'adapt their offer to customers' demands at different times of the day. Customers are looking for that high-end experience', he observes.
David Bagnall of BWG echoes this targeted CX approach through the profiles being used in their landmark SPAR and EUROSPAR stores. It's not about where your store is located; it's all about the customer who lives there. The SPAR brands have created their individuality by 'designing [our] store around customer requirements and their demographics… tailoring of our business around the customer, not its location.'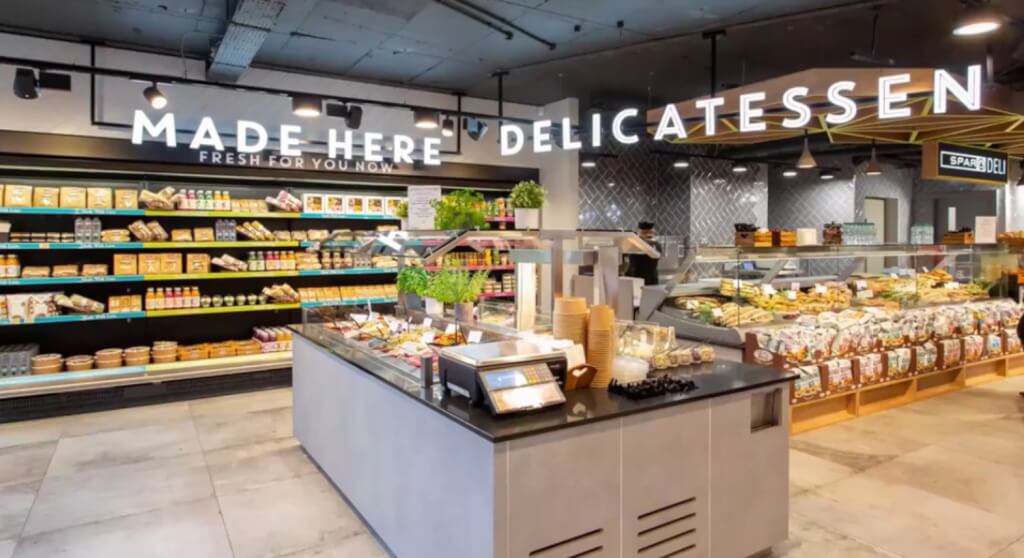 Ingredients for Irish success
What are the key ingredients of success in this sector? Bagnall focuses on two:
Don't be 'afraid to take risks'
Employing a young, progressive workforce, interested in world cuisine and new concepts. We will shortly hear from the SPAR International CEO on his company's powerful ethos, which wholeheartedly supports this premise.
Frank Gleeson similarly hits the convenience CX nail on the head: 'Giving [the customer] experiences and solutions for the occasions they want.'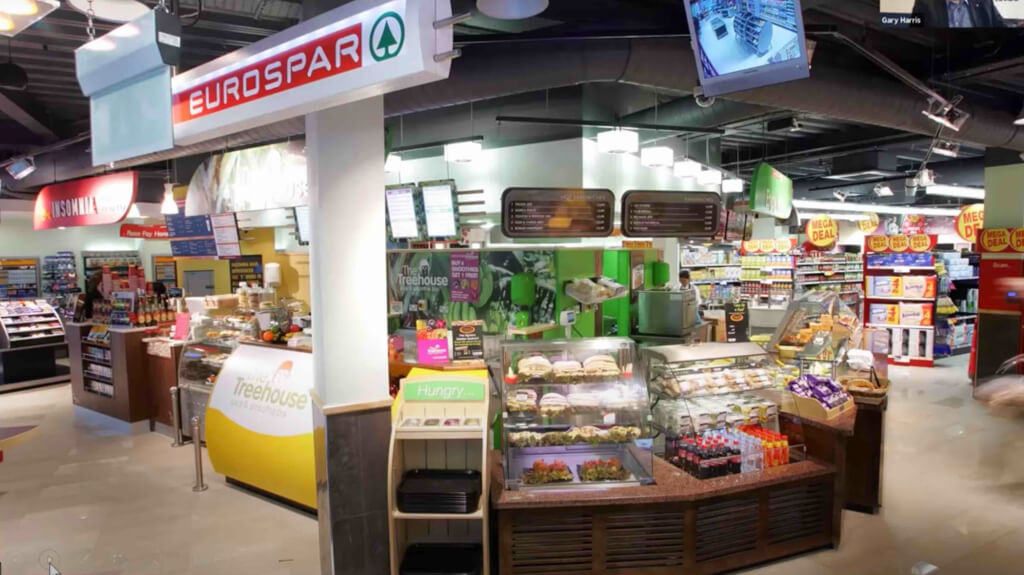 Avoca–Aramark President Gleeson adds his own recipes for success, seen within the context of the pandemic. His company 'dialled up the food hall experience'. The 'twist' though was that the offer was 'restaurant quality'. COVID has brought different custom, and their offer has side-stepped to accommodate customers' new optics: an emphasis on Fresh, Bespoke, Lifestyle choices. In-house butchers were just one step in this transition.
Bagnall continues, pinpointing some important differences between the Irish clientele and familiar foreign markets. The British and American customers 'like brands'. This is borne out in rival Applegreen's different approach to the UK forecourt, where shoppers will find familiar brands such as Greggs and Subway. The Irish customer however, according to Bagnall 'is open to trying out new things'. Another driver is the competition with local 'canteens' that are subsidised in City Centres: 'we need to drive the food service element of our business'. But it is this very kind of competition that 'has raised the bar and raised the standards'.
---
How SPAR's flagship Dublin store inspired and informed innovation in China
This particular success story of SPAR International's worldwide 'flagship' learning process begins in Dublin's Barrow Street EUROSPAR store, opened in 2007. The store was conceived and developed to 'try and test initiatives', explains SPAR Head of Brand Gary Harris:
This store was instrumental in creating the change and trialling solutions which lynchpin the ongoing strategy today... Food service and food solutions, equipment and technology, with a focus on customer needs, changing shopping missions and responding to those needs… Hot, cold, ready to eat, made to order, eat in store, take-away.

Gary Harris, SPAR International
In addition to the breadth and quality of the lifestyle choices the store offers, the EUROSPAR smartly supports local and community initiatives, such as 'Yes to Irish!' (for locally-sourced produce) and 'Food for Ireland', aimed at providing support for local people hit hard by the pandemic. Previous articles in SWL's series of Thought Leader 'Insights' have highlighted the importance of this exact sense of 'purpose' and reaching out to the local community.
The Food-to-Go offer was clearly central to the trial, and as a direct result the launch of noodle bar Kitsu was one of the most startling successes in the new store. It was 'phenomenal success,' says Wasmuht.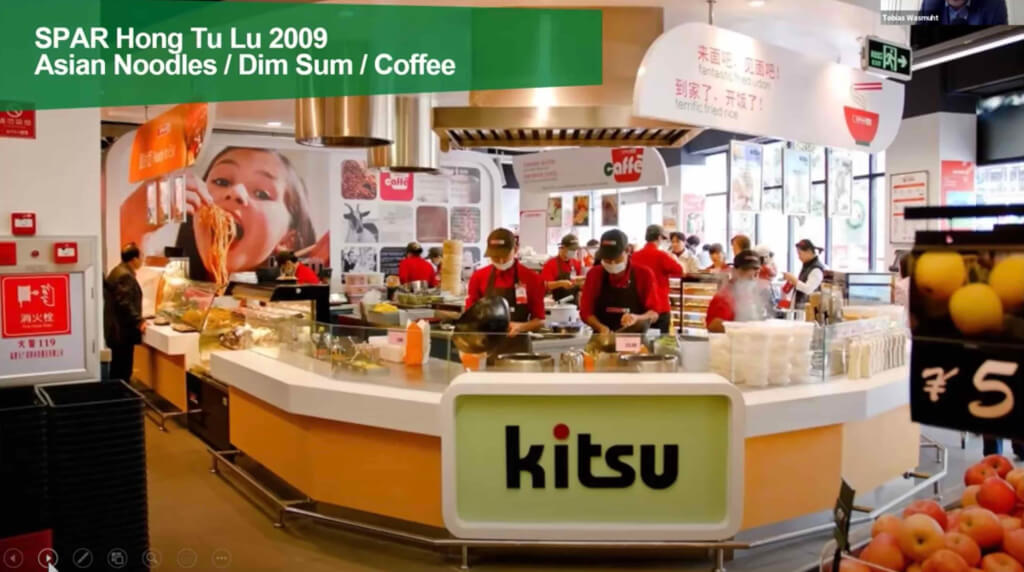 Cutting-edge technology
The other 'transfer of knowledge' from the Irish experience was cutting-edge technology on shelves and at POS. These were among the key ingredients and learning points that SPAR exported directly to their new store in Hongtu, China. One such technological innovation was QR codes, which saw very fast take-up and development in the new Chinese venture. Stores became exclusively Self Checkout, sporting facial recognition technology as well as 'AliPay', Asia's most popular e-wallet service. SPAR's multi-faceted offer in this market was split across multiple premises, such as SPAR hypermarkets, SPAR Independent Retailers and SPAR Community Stores. The key revolution there however was a significant move towards Lifestyle Supermarkets, attracting a new, younger customer – 'Generation Z' – with a new focus on Convenience and Online. The latter has grown enormously, and not entirely due to COVID-19. Online is projected to account for 20-25% of sales by 2022. Mobile phone payments now make up nearly three-quarters, and same deliveries half of the total.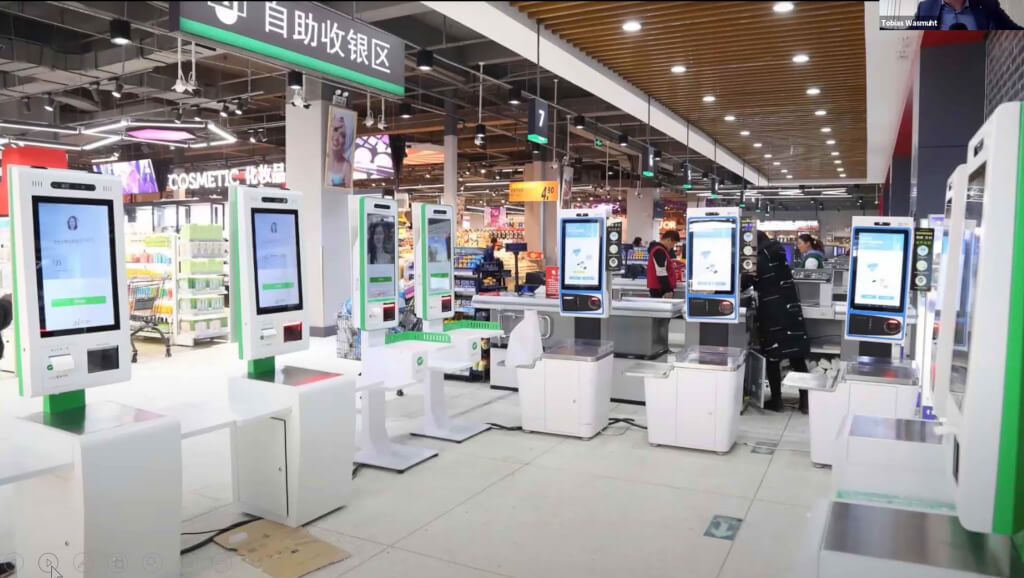 ---
Releasing your people, process and technology potential:
SWL recognises that to truly leverage the benefits of new innovation thinking, it is vital to have a detailed understanding of the interrelationship and performance of People, Process and Technology.  By optimising all three concurrently it undoubtedly produces the 'sweet-spot' performance we all seek to attain from a new service proposition to Customers. To learn more on how SWL can help with this, please contact us on: Contact I SWL Group International Ltd I Retail Productivity Specialists
---
SPAR's 'Circular Model' of Learning
This is where SPAR International's universal sharing of knowledge, experience and experimentation really comes into its own. Newfound expertise from Dublin was taken over to China in 2009 and then, interestingly, in 2019 the flow of knowledge, innovation and technology began flowing back the other way. Wasmuht described this back flow of information and new learning as 'flipped': part of what he calls the 'Circular Model'. This brings to mind David A Kolb's much-used 'Experiential Learning Cycle':
Learning is the process whereby knowledge is created through the transformation of experience.

Kolb, 1984
So in this way, experience brings evaluation, evaluation brings adaptation, adapting those learnings for new ventures, and evaluation of those new experiences to be fed back into improvements to the original offer. And so the process continues. Duly, SPAR's new Millennium Walkway store, incorporated the innovative technology that had proven so successful in Hongtu. The vital organs of this SPAR 'Retail organism' were transplanted elsewhere, ensuring that Best Practice was emulated in appropriate markets.
---
'Flipped'
The success in China directly informed SPAR International's new generation of stores in Ireland. The circular, experiential learning cycle had come back around. The by-products of this process were 'Proximity Stores' across SPAR's estate in Ireland. The approach was similar to that in China, with individual Store profiling – what look and feel for each – as part of a 360° customer-centric approach, with detailed research on the local Customer: 'behaviour, needs, demographics, how are they shopping in our existing stores?'
Perhaps the most significant factor behind this transformation in Ireland's Food-to-Go offer has been the rare cocktail of demographic trends: 'a profound evolution of customer behaviours'. Mid-pandemic, customers have been displaced (ie not now in their offices). Dublin city footfall is down 70%, office occupation down 90%, and tourists down a staggering 97%. BWG's David Bagnall heralds the resultant need to 'evolve our retail offering': this brought major changes in 'Ambient and Fresh' areas of their business. This has long been a USP of their 1100 SPAR and EUROSPAR stores, known to be 'famous for fresh', and this has been part of the brands' 'grand strategy':
'EUROSPAR retailers focus on six key elements – the best fresh foods; giving its shoppers the best value; rewarding them for shopping with EUROSPAR; stocking product ranges that its shoppers want; providing exceptional customer service and the best possible shopping experience. SPAR encourages consumers to choose a better alternative for their health and wellbeing through the SPAR Better Choices programme.'


https://www.bwg.ie/our-brands/eurospar/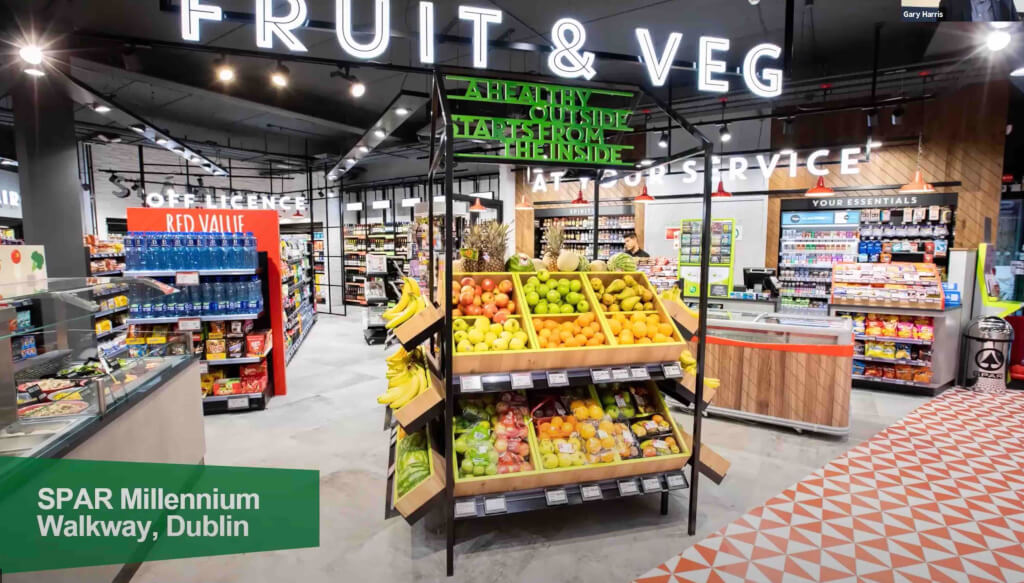 As in Hongtu, the emphasis based on this demographic analysis was on Lifestyle for a new generation of stores
Fresh food and vegetables emphasis
Butcher, deli, wines – full supermarket shopping
Deli (SPAR + concessions eg. Subway) – different customers drawn by each
Salad Bar – vibrancy for the 'lifestyle customer' (the younger generation)
'Food to Go, Food to Stay'
Eat In Store – seating accounting for a quarter of store space)
Power banks and USB built into the tables
'At your service' – less formal, more personal.
The success of these 'experience' stores informed their UK counterparts; the Circular Learning Model was in operation again.
The University offer and the new wave of SPAR International store entrepreneurs
In exactly the same way, SPAR International adapted its strategies based on learnings from their landmark store located on Lancaster University campus in the north west of England. Launching in 2013, ten similar 'University SPARs' in the Netherlands were innovative from the get-go. Like China, they were 100% self scanning – 'skippen' – literally allowing customers to skip the queue. Mobile scanning was operational as early as 2017. Continuing the cycle, the current Canary Islands university project is 'looking heavily on the learnings in Lancaster, Amsterdam and other cities'.
A key emphasis in SPAR's methodology and ethos – as previously stated by BWG's David Bagnall (above) – is the encouragement, support and nurturing of young entrepreneurs to join SPAR as Store Managers. Wasmuht salutes these 'rocket innovators':
they often come 'ground up' from the entrepreneurs in our business: the turbos, the engines that we have. Utilising their creativity, to spread these learnings amongst the group.

Tobias Wasmuht, SPAR International
And hand in hand with this commitment to a new generation of talented retailers is a key feature of SPAR International's overarching and reflective ethos. That is, 'learning and evolving from the inside-out/bottom-up rather than a top-down/HO-driven approach.' Listening to both Customer and Colleague, innovative offers emerge. The Netherlands saw the expansion of food service with local favourite the 'Tosti Club' a notable success. 'City Stores' spread their wings in other international city centres, with iconic and unique design such as the store in Central Park, Manhattan. SPAR refuses 'off-the-shelf' store designs in favour of cutting edge architecture, flexible and adaptable to different store sizes. And importantly, as we will see in store openings in other continents, those builds draw on local materials, design talent and traditions. SPAR are truly sensing the heartbeat of each locale.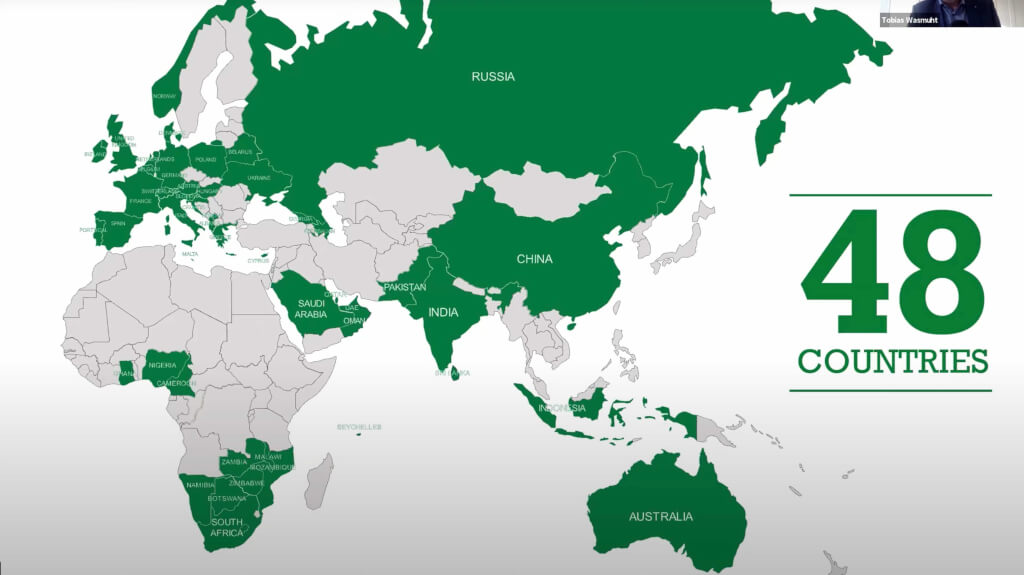 SPAR International 'sensing the heartbeat' of their locations
Wasmuht cites numerous examples of how innovative new stores have borrowed as much from an in-depth understanding of their locations (and the customers who live there) as they have from sister stores.
Denmark – took a lot of learning from the Netherlands with new flagship stores: 'success breeds success'. Here and in Switzerland, sales enjoy the highest penetration of organic produce anywhere in the world. Digital shelf labels offered time-saving for colleagues and customers. SPAR's 'Natural' brand was introduced here, borrowing from its launch in Spain.
Spain – Stores enjoyed a timeless design and layout, with an emphasis on freshness:
The design supports the offer – welcoming, warm and inviting' It doesn't overshadow. It's all about the people and the offer.

Tobias Wasmuht, SPAR International
Again, this offer is remarkably organic, fresh and 'Natural': 'The product is the hero,' says Wasmuht. Purpose is centre stage, with own brand products sharing shelf space with important ecological brands such as Rainforest Alliance, UTZ and Fairtrade. With biodegradable packaging already a fixture, the webinar proudly announced the imminent launch of ground-breaking Self-serve zero packaging solutions. These will include package-free dispensers for Pasta, Coffee, Cereal etc.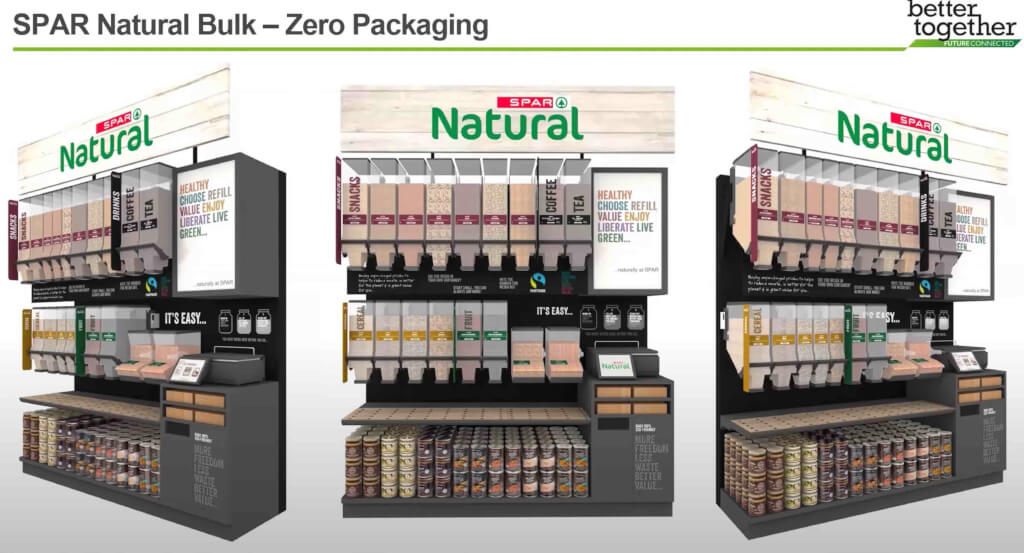 Norway (Oslo) – a recent new build in the nation's capital mirrors this growing commitment to sustainability and conservation. Its eco-friendly physical store design – and some ground-breaking features – make it an ecological flagship store. Solar Panels power the LED lights, and fridges recycle and utilise the heat generated to heat the store. But most notably, the highly innovative roof, laid with living grass turf, has contributed to a 60% reduction in CO2 emissions. Such rare features – found in a small number of retail operations such as Prince Charles-designed Gloucester Services – are seldom seem, and one suspects SPAR is ahead of the curve here.
Austria – SPAR success here has been sudden and substantial, now a market leader. As in Norway, solar panels are built into the roofs of 100 stores – generating 4.8 million kw in energy. Consequently, 50% less energy is consumed. Again, sustainability, ecology and healthy eating are the watchwords, and waste is studiously avoided.
Driving to reduce the amount of sugar in own brand – 1700 tons of sugar reduced through 'Sugar Out' initiative
Promoting entrepreneurship, 'Young and Urban' challenger brands are healthier, nutritious
Phenomenal success of Natural-Pure brand
Rolling out self-serve zero packaging dispensers for Tea, Cereal, nuts etc.
'Too Good to Go' – reducing food waste in partnership
SPAR is not about duplicating look and feel – we work with local architects, matched to local architecture and materials, adapting to their locations.

Tobias Wasmuht, SPAR International
These builds demonstrate a sustainable approach to architecture and construction, bringing about a 50% reduction in energy construction.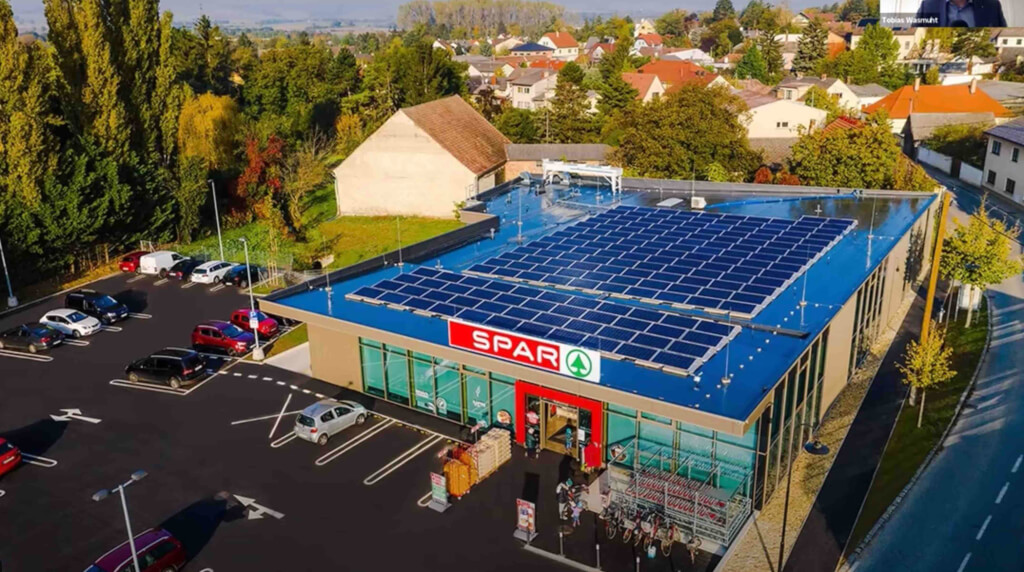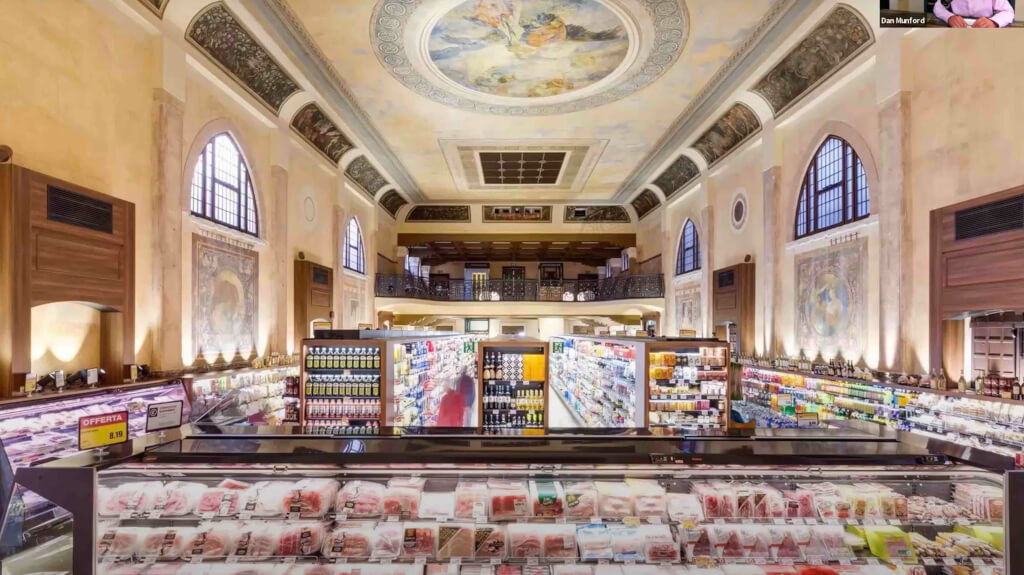 Italy (Venice) – arguably SPAR's most stunning piece of architecture: 'our most beautiful store. It's our Cistine Chapel'.
This is a unique store, occupying the historic 100-year old 'Teatro Italia' in Venice, a building that had previously been near-derelict. All frescos have been restored after decades of neglect: 'Designed to respect its hosting premises… Returning value to the people of Venice.'
Other stores worldwide have continued and cemented SPAR International's commitment to learning from partners, adapting to local customers, respecting local communities and resources, communicating and listening. South African partnerships working 'shoulder to shoulder' with their Sri Lankan counterparts on 'health, nutrition and sustainability… fresh, bulk and value' is testament to this.
The success has been the culture.

Tobias Wasmuht, SPAR International
Many thanks to Global Convenience Store Focus and Shop Talk Live for the excellent and inspiring content.